Aonghas Grant's fiddle career spans more than six decades, and he is still very active as a soloist, teacher, workshop leader, and session participant. He has been playing the fiddle since he was thirteen years old, learning many tunes from his uncle and his father. His family hails from the Highlands of Glen Moriston and Aonghas is a Gaelic speaker and a natural-born storyteller, bringing tales of close friends and long-ago people and events equally alive.


Aonghas plays a wide range of fiddle tunes, from ancient Gaelic airs to classic Niel Gow sets, to Irish reels, to Highland pipe tunes. He is also a composer of note, and enjoys making musical remembrances of his many students, friends and colleagues. He is honored to have many tunes written for him too.


Aonghas plays this wide and deep repertoire of tunes in a "pipey" style with a "Gaelic" touch, known as the West Highland Style. Aonghas writes: "As far as style is concerned, it is probably more accurate to state that there are variations on a theme, as opposed to one overall style. The main features are a smoother bow and the use of ornamentation. The bowing often varies with the district and with the particular fiddler. The many fine fiddlers, whom I knew over half a century ago, played the tunes in their own characteristic fashion, irrespective of formal music convention. In other words they did their own thing. None of them knew anything of written music, but they were natural musicians who used complex bowing patterns, mordents, acciaccatura ornamentation and vibrato in some cases. They did so as a matter of course without knowing these terms or others such as octaves, fifths or double stopping!"


In 1977 Aonghas recorded the landmark Angus Grant - Highland Fiddle LP. He is accompanied by Willie Lawrie on piano and John McIntyre on bass, and it was released by Topic Records. It may still be available as a cassette. The CD The Hills of Glengarry, was released October 1st, 2007, by Shoogle Records. It is Aonghas' second solo recording in 30 years, and features accompanying musicians Ross Martin on guitar, Christine Hanson on cello, Paul Connelly on concertina and Angus R. Grant on fiddle. It was recorded at the Birnam House Hotel in April 2007. Here are links to some websites where the CD can be purchased: Music In Scotland and Foot Stompin Music, and now Stateside from The Folk Arts Center of New England.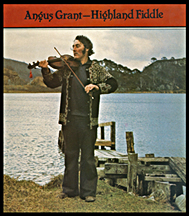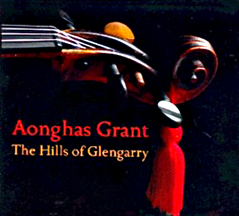 Aonghas was tutor with the summer institute at Stirling University for 30 years, teaches a number of private fiddle students each week, and has been on the Faculty of the the Royal Scottish Academy of Music and Drama. Aonghas and his wife Moira live in Lochyside, near Fort William, Inverness-shire, Scotland and offer their home as a Bed & Breakfast. They are proud grandparents of one, and their three children Angus R., Deirdre and Fiona are all carrying on the Highland musical tradition on the fiddle and pipes.